We Now Have Archives of the Your DIY Health Radio Show on both Truth Frequency Radio Network and Peoples Patriot Network!
Click on the image below to go to our archive page!
__________________________________________________________________________________________
I have two radio programs that both go by the name "Your DIY Health."
The first began on March 12, 2015 on the Truth Frequency Radio Network.
It airs every Tuesday and Thursday morning from 10:00 a.m. - Noon Eastern time.  Just click here to listen live.  
The number to call in to the show on TFR is 833-TFR-LIVE  (833-837-5483)
Show #2 began on Labor Day, September 4, 2017 on a new network called 'The Peoples Patriot Network.'  It originally aired daily Monday thru Friday from 1:00 - 2:00 p.m. Eastern time.  As of Monday, April 26, 2021 the show is going to two hours per day from 1:03 - 3:00 p.m. EST!  Recently our server died so we're now broadcasting on www.eurofolkradio.com   Just click here to listen to the show live!  Note: some browsers won't play this.  If yours doesn't work, try Firefox, Opera or Brave - they do work!
AS OF MONDAY, AUGUST 16, 2021 WE'RE USING ANOTHER PLATFORM KNOWN AS JITSI!
CLICK THIS LINK TO GO TO THE CORRECT PAGE ON YOUR BROWSER.  
If you have a microphone on your computer you can speak directly to me and there's also a built-in chat system!
You can also go to your app store and download the Jitsi Meet app to your phone.  Just look for the icon below to know you've go the correct app.  Once it's installed on your phone open the app and type in 'ppnstudio' and you'll be in the room to listen and participate in the show!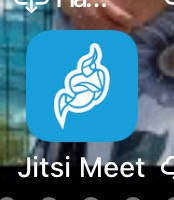 To Join the Jitsi board by phone dial this number and use the PIN#:
 Dial-in: +1.512.647.1431 PIN: 2686 0778 37#
Click the image above for another player for the afternoon show.
Note: The above link will work on all devices including iOS (iPhone and iPad).  You can save it to your homescreen for easy access!
Both programs are geared toward educating listeners on the importance of the "Trinity of Health."
Click here to go to my Telegram Channel!
Click the image below to visit my Facebook page!