Your body needs 90 essential nutrients
True health and wellness is only possible if it radiates from a solid, fundamentally-sound center. There is a core group of 90 essential nutrients that has the greatest positive effect in bringing vibrant health to the human body's complex and multi-dimensional systems.
90 Essential Nutrients
Did you know that only 8-12% of the typical nutritional supplements available today are actually absorbed by your body? That means that approximately 90% of typical supplements are flushed down the drain.
Youngevity's supplements are 90-98% absorbable! Why is there such a difference? The secret is our exclusive source of plant-derived minerals that dramatically increase bioavailability (absorbability). 
We combine superior raw materials with state-of-the-art processing and production, so it's no wonder that Youngevity products get you results.
60 Minerals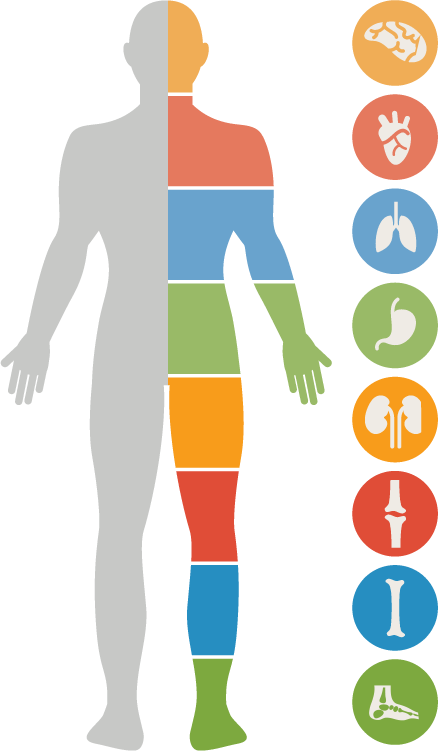 Calcium, Magnesium, Phosphorus,  Potassium, Sodium, Chloride, Sulfur, Cobalt, Copper, Aluminum, Arsenic, Barium, Beryllium, Boron, Bromine, Carbon, Iodine, Iron, Manganese, Selenium, Zinc, Cerium, Cesium, Chromium, Dysprosium, Erbium, Europium, Gadolinium, Gallium, Germanium, Gold, Hafnium, Holmium, Hydrogen, Lanthanum, Lithium, Lutetium, Molybdenum, Neodymium, Nickel, Niobium, Nitrogen, Oxygen, Praseodymium, Rhenium, Rubidium, Samarium, Scandium, Silica, Silver, Strontium, Tantalum, Terbium, Thulium, Tin, Titanium, Vanadium, Ytterbium, Yttrium, Zirconium
2-3 Essential Fatty Acids
Omega 3, Omega 6, Omega 9
16 Vitamins
Vitamin A, Vitamin B1, Vitamin B2, Vitamin B3, Vitamin B5, Vitamin B6, Vitamin B12, Vitamin C, Vitamin D, Vitamin E, Vitamin K, Biotin, Choline, Flavonoids (Bioflavonoids), Folic Acid, Inositol
12 Amino Acids
Valine, Lysine, Threonine, Leucine, Isoleucine, Tryptophan, Phenylalanine, Methionine, Histidine, Arginine, Taurine, Tyrosine
Click on the image of Dr. Wallach to listen to 
"Deadly Recipes" 
and find out why the 90 Essential Nutrients are so important!